The Role of Terrorism in the 2016 Presidential Election
Terrorism and national security are the number one issues for the 2016 presidential election, with terrorism being of most importance to the Republican Party. Terrorism has been on the forefront of America's mind ever since 9/11, and the attacks that continue to occur on our land show how terrorism is a major concern for the voters. Which then of course ensures national security for the voters to be a major topic for this particular political campaign season. Ever since 9/11, America has been concerned with terrorist groups and attacks, strong national security, with the exception to freedom of privacy. With the rise of ISIS attacking their own and threatening others, the terrorist attacks in Paris, the increase of attacks in America like the Boston Marathon and the more recent shootings in San Bernardino, California, the issues of terrorism and national security could be what determines the outcome of this years Presidential election.
Happening Now
Due to the San Bernardino massive shooting that took 14 innocent lives, detectives wish to view content on one of the shooter's, Syed Rizwan Farook, locked Apple iPhone 5c. Apple vs. FBI is now an ongoing court case where FBI wants the help of Apple to access the locked devices content because they believe there is significant evidence within the phone.
Apple declined FBI's overreached request because they believe this threatens the privacy of their costumers. Multiple public figures like Mark Cuban, Facebook, and Twitter support Apple's decision noting this wouldn't be a one-time request, and Apple is doing the right thing by protecting their consumers. However, GOP Presidential candidate Donald Trump, who strongly supports national security, decided to use this issue as another outlet for ensuring the voters of the importance of national security. He offered his standpoint from his Twitter account posting a tweet (via iPhone) calling for a boycott of Apple products. Trump is rallying "security over all."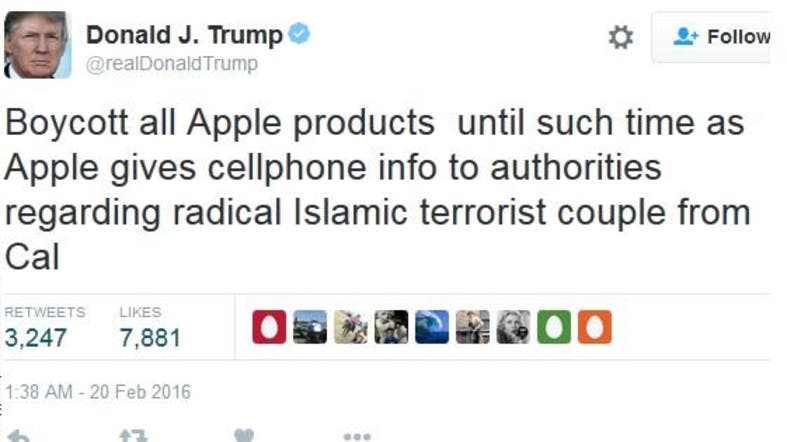 Would allowing the FBI access to Apple's (or any other company) costumer's locked phone, based on the idea the phone's content could assist in a investigation, be considered an invasion of privacy to the voters?
Houston GOP Debate
The Republican GOP Debate in Houston last Thursday barely covered policy issues of terrorism or national security. Instead of debating each others standpoints, Rubio took the stage this time and attacked Trump religiously leaving zero room for the other candidates to leave an impression.
What's Next?
Republican forefront candidate Donald Trump has bluntly and aggressively engraved his view on war on terror, terrorism, and national security within the voters and the polls are showing so. Regardless of how he performs in a debate, his supporters have not swayed. The Republican Party needs to take into consideration Donald Trump is their only future (for a Republican President to win) because of his strong standpoints on policies like terrorism and national security that continue to lead to more supporters.