The moment we have all been waiting years for is finally here. The past year, our lives have been filled with more political articles, ads, debates and memes than our brains could possibly process. As I sit here typing my final blog post while live election updates play in the background (Florida: Trump at 48.9% and Clinton at 48.0%), I plan discuss the ever-so stimulating topic of US / China trade one last time. By the time I finish typing this, we may very well know who the next President of the United States is.
In relation to trade, Clinton and Trump have both shared a pair of pants – Clinton in the left leg and Trump in the right (pun intended) An article published in China Daily on Oct. 29 highlights the usage of Clinton and Trump's anti-trade rhetoric. Both candidates have strongly positioned themselves throughout the campaign advocating for a "strong protectionism sentiment." This is a unique position for both candidates to adopt as the United States has been known as a country "that has long touted itself as the champion of free trade."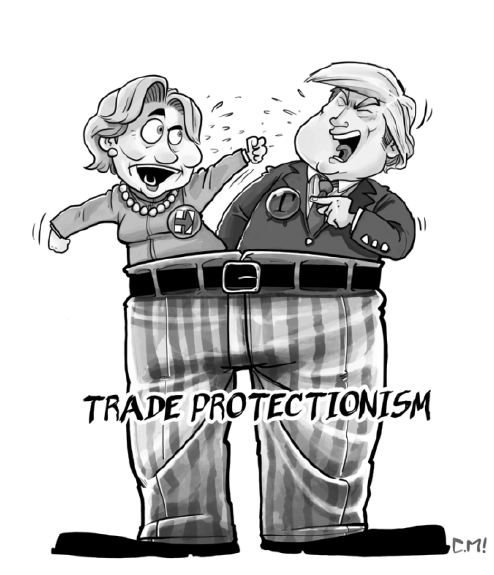 From the start, Trump promised to implement a 45% punitive tariff on Chinese imports; a pledge that can described as rhetorically irrational and impossible as this would likely result in Chinese retaliation and a strong opposition from powerful US businesses. Furthermore, such a tariff is impossible as it would be considered a violation of World Trade Organization rules. With the severity of these potential consequences, it becomes even more blatantly clear (if by chance it was not already) that Trump's rhetorical strategy throughout the campaign has been to rally uneducated voters by targeting their aggression and frustration with the current American political system.
Meanwhile, Clinton has accused Trump of outsourcing his products from 12 countries, attempting to rhetorically frame the global outsourcing of products as a crime. If this is the case, "all the Fortune 500 companies, many of which have provided donations for the Clinton campaign, should be brought to justice because they are all producing goods and services in other countries including China." Therefore, there are some overarching themes of hypocrisy throughout the campaign in regards to Clinton's rhetoric.
Though the two candidates are both in different legs, they do still share a pair of pants in regards to their opposition to the Trans-Pacific Partnership.
Clinton once referred to the TPP as the 'gold standard,' has since made a U-turn and changed her stance on the trade agreement. Somehow Clinton, a politician with 30 years of experience, has been able to slide by with flip-flopping on her positions. A Pew Center survey in January 2016 revealed that "the favorable view of trade deals among Americans is down 8 percentage points since 2014." This could potential be the result of Clinton using rhetoric to successfully execute her stance on TPP, allowing her to gain support with polls show her leading nationally less than two weeks before the Nov 8 election.
In conclusion, both the fate of the free world and the fate of free trade will soon be determined. Whether its Trump or Clinton, the United States will be facing a unique rhetorical strategy in terms of trade with China. There will be a new set of threats and opportunities that either Clinton or Trump will be forced to take advantage or attempt to avoid. But as of now, I will sit patiently waiting the Season Finale of America.
(PS: Florida is still 'too close to call')