Exciting news! Ring the chapel bell! UGA's Special Collections Library has purchased a new manuscript!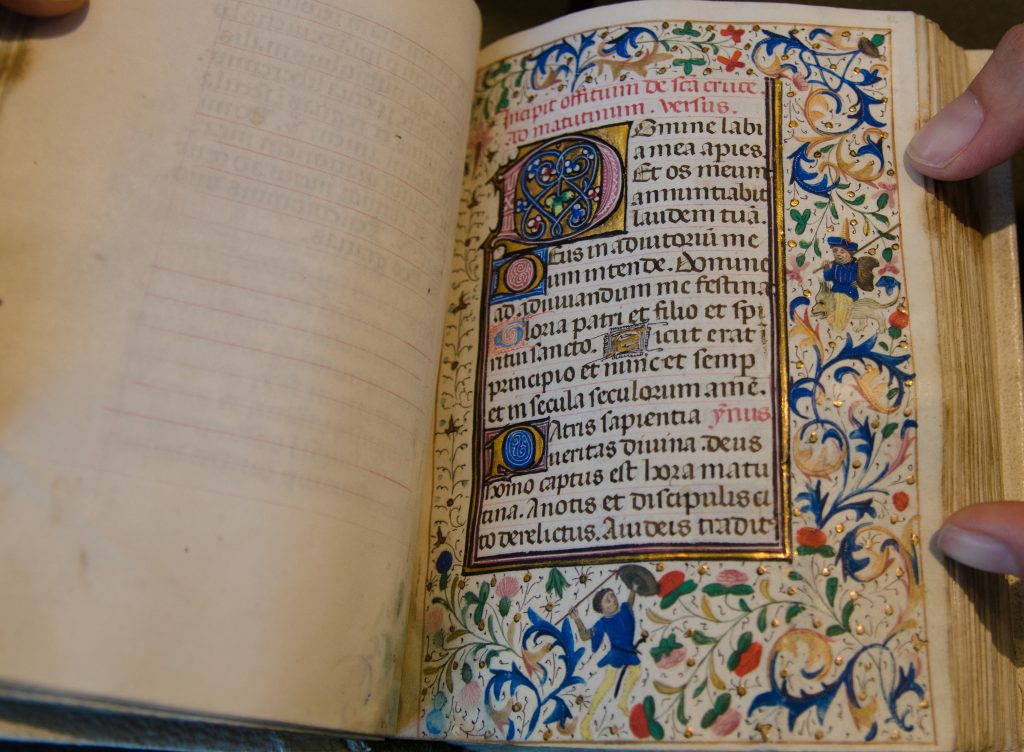 This new codex is a lovely little Book of Hours, probably made in Bruges or elsewhere in the Low Countries. It's a little more typical than the Hargrett Hours – it still has its Hours of the Virgin, its litany, and its Office of the Dead – and it's written in a wonderfully legible, graceful Gothic script with Italian rotunda features. When Dr. Gwara was here last month, he noted that many scribes in the Bruges area used this Italian-influenced hand (and he even had one miniature Book of Hours in his possession with the same style of script).
The new manuscript doesn't contain any miniatures, but it does sport several whimsically inhabited borders.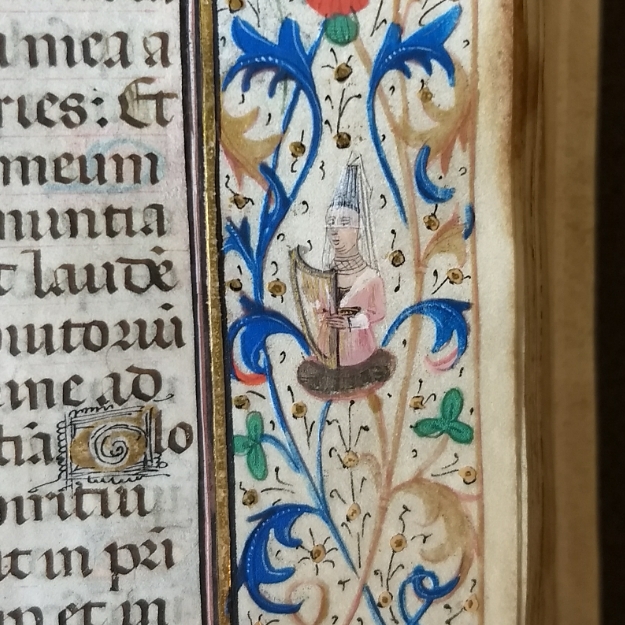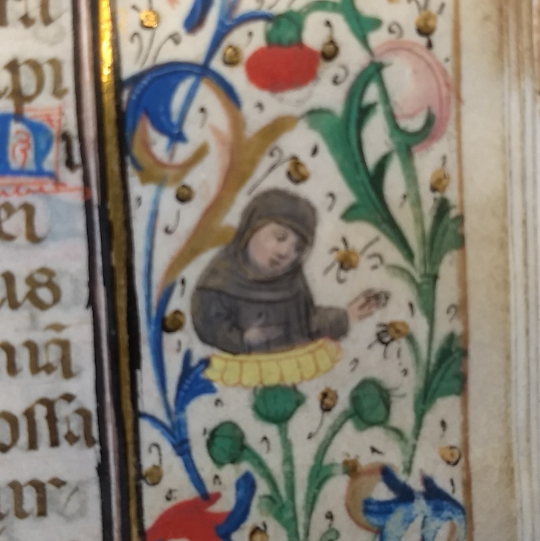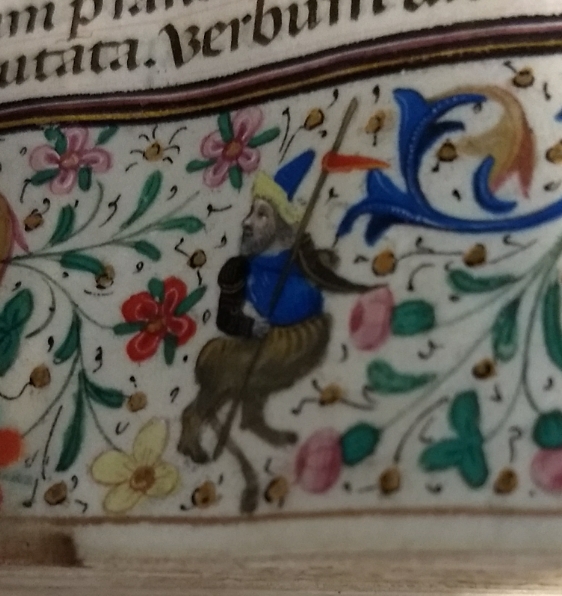 And, surprisingly, it's dated.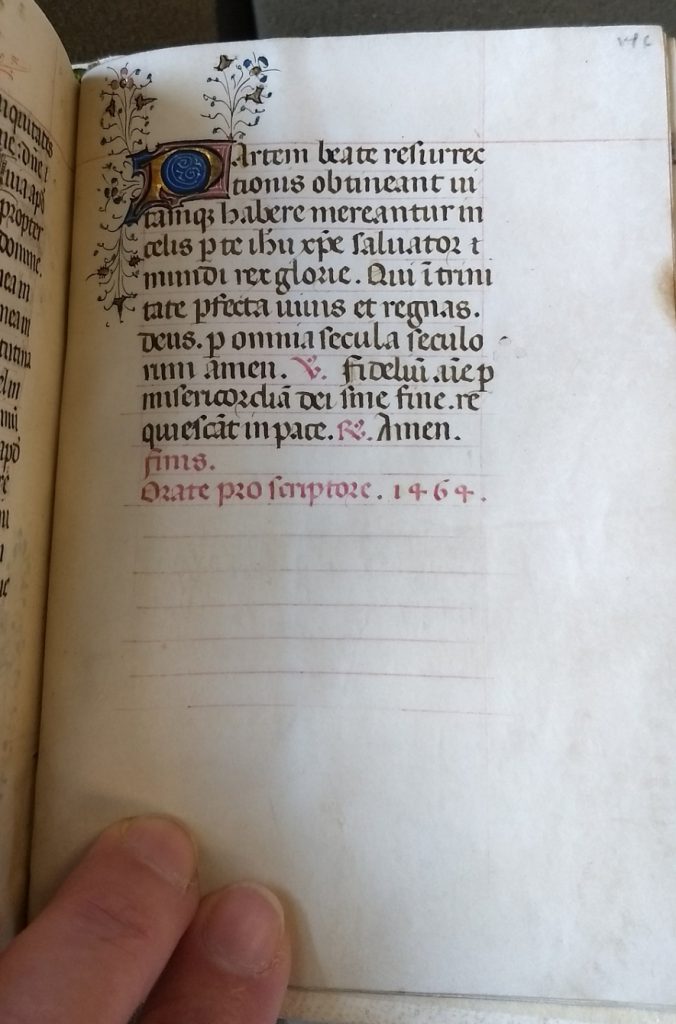 I love the fact that the scribe has the last word, even after the double ending of the paired "Amen" and "Finis." "Pray for the writer," he concludes just before the date.
This 1464 Book of Hours has fewer secrets to suss out than the Hargrett Hours does. Its calendar is more straightforward than the Sainte-Chapelle calendar in the Hargrett Hours; its contents appear to be more predictable; and it seems to be intact, beginning to end, without the codicological complexities of the Hargrett Hours. This makes these two horae splendid companions to each other – each highlights the distinctive features of the other.
There's certainly work to be done on the 1464 Hours, though. Are its contents quite as mundane as they initially appear? Might the (extensive) litany or its opening array of prayers tell us anything about its owners' devotional interests? Most intriguing are the heraldic emblems that appear in the lower edges of the first two inhabited borders: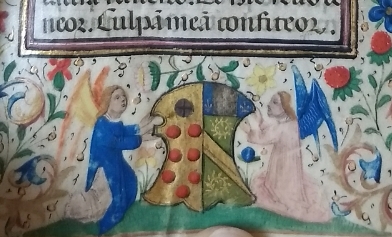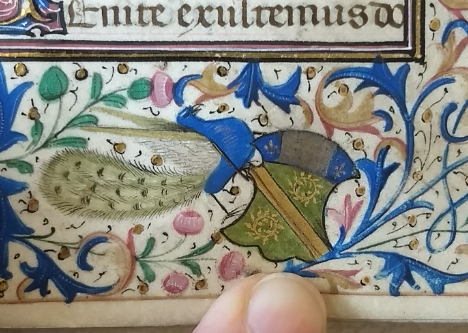 Ideally we'll be able to identify the original owner through these symbols, but it's going to be a challenge to find the right heraldic records. This is not a noble manuscript, so I suspect we're looking for a merchant who rose to the armigerous classes, or perhaps a lesser landed gentry family – a more difficult research project. Still, it's certainly worth trying to discover the first owner, and the firm date of completion will help the hunt enormously.
I really cannot thank the Special Collections library and the UGA University Libraries System enough for authorizing this purchase. At a time when many university libraries are tightening their belts or rethinking their purchasing priorities, the UGA libraries have been generous in acquiring new medieval materials for teaching with. These include not only this new Book of Hours but also an array of manuscript fragments two years ago that I've been putting to use every semester since. So a special shout-out to Dr Toby Graham, University Librarian and Associate Provost, for authorizing the purchase and to Laura Light of Les Enluminures for drawing the manuscript to our attention.