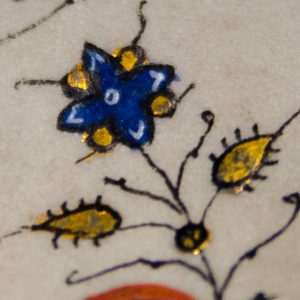 This site supports a multi-year, multi-course exercise in public scholarship and student research. It centers around the medieval manuscripts held by the Hargrett Library in the Special Collections Library at the University of Georgia. In these courses, students learn the skills necessary to engage in basic manuscript study then, in teams, apply those skills to deciphering the  medieval items in the Hargrett Library. Critically, students will make elements of their learning processes and research discoveries public on this website; I, the professor, will similarly make elements of course design and implementation public. Together, I and the students hope to make transparent the successes and challenges of student-led classroom research, archives-centered teaching, and experiential, hands-on learning — and to show you the beauty of medieval manuscripts, at UGA and elsewhere. If you wish to read more about the teaching philosophy that drives this project, please read the blog post "Living Again in the Archives." This course is supported by UGA's English Department, the Center for Teaching and Learning, the DigiLab, the Center for Applied Isotope Studies, and especially the Special Collections Library.
This series of courses supports two major research projects. The first is the investigation into one nearly complete, previously unstudied fifteenth-century Book of Hours, the Hargrett Hours. We are editing the manuscript, researching its distinctive texts, and — with the assistance of the DigiLab — producing an online facsimile edition of the manuscript, in progress at http://hargretthoursproject.digilabuga.org/.
The second series of courses undertakes scientific analysis of the medieval pigments in the Hargrett Library manuscript fragments and codices, with the help of personnel and equipment from UGA's Center for Applied Isotope Studies; related posts are available under the "Pigments" tag.
We welcome feedback on course design, projects, problems, and discoveries; we can be reached (and followed) on Twitter at @HargrettHours.
---
Credits:
Professor/PI: Cynthia Turner Camp, Associate Professor of English
Students/Co-investigators, Fall 2016 (Hargrett Hours 1.0): Veronica Block; Shelley Brooks; Miranda Clay; Rachel Costa; Meg Dominey; Sara Funk; Sam Harper; Madison Hogan; Sarah Kate Johnson; Sarah Landry; Katie Lech; Kaley Lefevre; Jared Long; Jasmine Paxton; Lainie Pomerleau; Jessica Roberts; Ty Stewart; Ashton Taylor; Nicholas Vowell; David Zeagler.
Students/Co-investigators, Fall 2017 (Pigment Analysis pilot): Lauren Amidon, Alexandra Carlsrud, Michelle Chang, Bonnie Hester, Abraham Johnson, Katie Knickerbocker, Taylor Lee, Roma Parikh, Heather Starr, Nicole Todd.
Students/Co-investigators, Fall 2018 (Hargrett Hours 2.0): Savannah Caldwell, Georgia Earley, Christian Gallichio, Kristina Going, Katherine Haire, Kara Krewer, Mikaela LaFave, Katie Lech, Zach McCannon, Ceciley Pangburn, Lucas Vaughn, Emily Walls.
Independent Study Projects:
Katie Lech: occurrence of the six Hargrett Passion prayers in other Books of Hours (Fall 2017, Spring 2018)
Madison Hogan: standardization (or not) of the Long Hours of the Passion (Fall 2017, Spring 2018)
Katherine Haire: literacy among female readers, lay and religious (Fall 2018)
Georgia Earley: René d'Anjou's Books of Hours (Spring 2019)
Emily Walls: the codicology of the Hargrett Hours (Spring 2019)