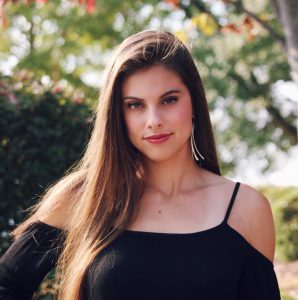 Gigi Gonsalves
Agricultural Communications Major
Spanish Minor
Honors Program
Certificate in Sustainability
Global Education and Leadership Certificate 
Where do I want to go?
Hi! I'm a graduate student from the University of Georgia, and I'm interested in being a strategic communicator for any community- or science-focused organization, such as National Geographic. The reason I'm interested in this is because I'm passionate about producing creative content that both educates and inspires people.
I've created visuals for research studies when I worked as a graphic designer for the College of Agricultural and Environmental Sciences, I've designed posters and flyers that educated student residents about how to better treat the environment when I was Eco-Rep for the East Campus Community Village, I've produced videos and managed the social media accounts for the community center I interned at, known as the Sparrow's Nest, and I've completed a lot of other creative projects throughout my major, which is agricultural communications.
From these experiences, I've learned so much about communicating effectively, and, like I mentioned earlier, I'm looking forward to using these skills to educate and inspire different target audiences- and, hopefully, make the world a more sustainable, empathetic, and proactive place. 
More about my major and minor:
Agricultural communications is an interesting major that spans a wide range of topics (after all, it's the merging of two worlds- science and communications). Thus, I've taken a diverse mix of classes over the past four years, including ones related to journalism, chemistry, biology, photography, writing, plant pathology, entomology, ethnography, etc.
My minor, Spanish, has allowed me to learn how to not only converse in a foreign language, but also to study cultures, traditions and literature from around the world. Overall, it has given me the opportunity to more fully understand those who are different from me and to become more inclusive in my work.
I'm also part of the UGA Honors Program, so many of the classes I've taken have required extra work or course projects to fulfill the honors requirements.
More about my extracurricular activities:
I've participated in many clubs and events throughout my time at UGA. Focusing on the ones that have related most to sustainability, I've participated in Rivers Alive Athens (where I helped pick up trash from the Oconee River) and MLK Day of Service (where I helped clear out invasive species in different areas throughout Oconee Forest).
I was also an eco-representative for the East Campus Village Community Board, where I promoted sustainability-related practices on and off campus to residents and faculty.
I studied abroad in Cortona, Italy and took courses related to viticulture and enology, where I learned about the various sustainable practices that Italian wineries engage in. I then used this experience to receive my Global Education and Leadership Certificate by becoming a member and then president of Education Abroad Ambassadors (2018-2020) at UGA and volunteering for a number of different events related to studying abroad.
In 2019, I was a participant in IMPACT UGA Service-Learning Alternative Breaks, where my trip focus was food security in Durham, NC. I was then a site leader the following year for environmental justice in Ft. Myers, FL, where I led a group of 20 UGA students on a week-long experience in which we completed 40 hours of service and learned what it means to be active, intentional citizens. The following year I led another trip in Chapel Hill, NC, but this time the trip focus was on women's health.