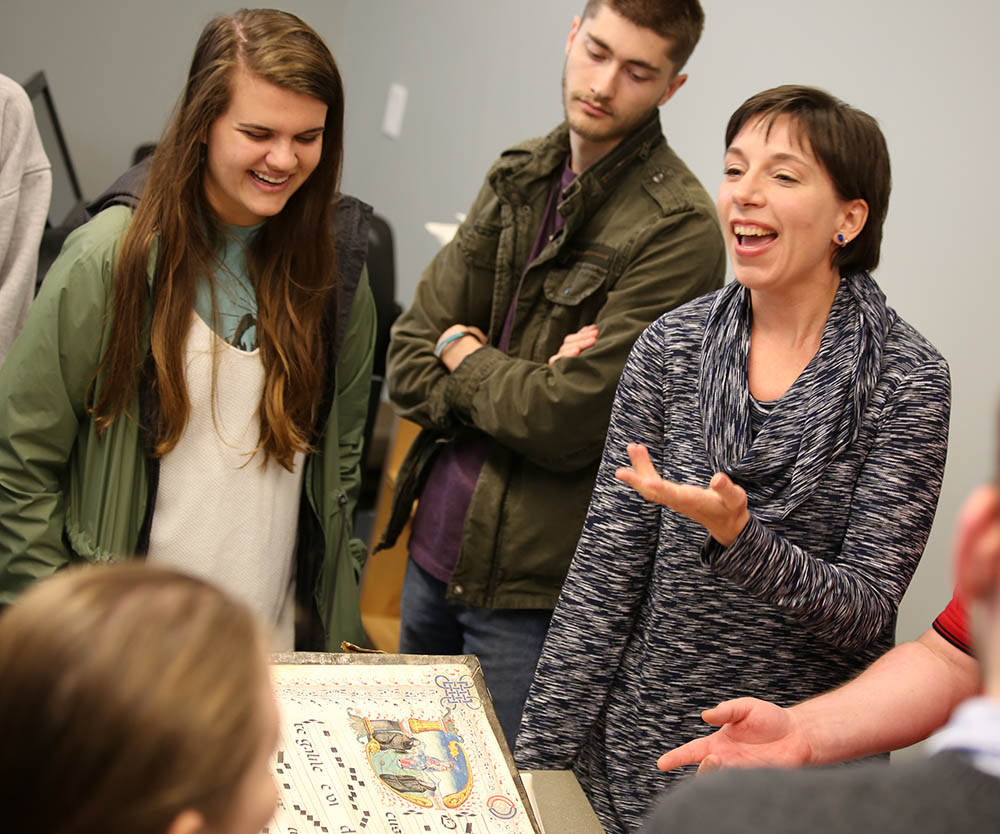 Wow – where have the days gone? The first week of the semester has flown by here at UGA and it was good to get back into the classroom, the oppressive humidity notwithstanding. A new fall means a new set of projects for the Hargrett Hours Project, so here's what we have lined up for the semester.
This fall's manuscript class is being taught in part as a service-learning course, under the oversight of UGA's Office of Service Learning. The goal of service learning courses are to engage students in community work that forwards the pedagogical goals of the course, and to encourage students to reflect on their own learning processes through the service they do. The Office of Service Learning is one of the unsung gems on campus. They have myriad ways for professors to integrate service into their courses, and they're so supportive in helping teachers design these classes and their reflective assignments.
How can a medieval course be a service learning class, you ask? When the community partner in question is the Special Collections Library! Despite the great support that the librarians in the Hargrett have given to my classes over the semesters, there's no easy way for a student or interested patron to identify all the medieval and/or early printed materials in the Hargrett's collection. (I'll be talking more about that issue in a future post.) So our project for this semester, and in some future iterations of the course, is to help the libraries increase the visibility of their earliest materials. Stay tuned for more on that service project in the coming weeks.
I also want to highlight some of the excellent institutions with smaller manuscript collections that have already supported my teaching and student research over the past year – often in ways they don't know about. So I'll be blogging about different US libraries and manuscript scholars as well.
The other element of the course that I, and the students, are SUPER excited about is our research into the chemical compositions of the pigments found in the Hargrett fragments. Over the last third of the semester, we'll learn how medieval scribes and artists created inks and pigments before analyzing, with equipment and lots of guidance from the Center for Applied Isotope Studies, the chemical makeup of the inks/pigments on our fragments. (I blogged about these materials analysis devices last fall.) This will be new ground for me and the students alike, so anticipate many posts on this material.
But wait, there's more! Two of this semester's students are taking on an Honors Program project focused on recreating medieval paints with modern materials. I've always wanted to play with grinding pigments and mixing paints in class; like my regular "Make Your Own Manuscript" assignment, such hands-on work gives all of us a small taste of the labor and craftsmanship that went into producing medieval manuscripts. However, I've never found the time to prep such a class. There's a lot of grinding and mixing and messy experimenting involved to figure out which combinations of pigments and binders will produce a paint we can play with inside a 50-minute class session. So I'm so grateful that Bonnie Hester and Roma Parikh are going to be my lab aides and test the best paint recipes that we can use in the classroom. They'll also be posting to this blog about their research on this side project.
Even though the class is moving away from the Hargrett Hours for the semester, that manuscript will still be getting love on the blog. Two of last fall's students, Katie Lech and Madison Hogan, are doing a CURO-sponsored independent study on the cluster of Passion texts found in the manuscript. If you'll recall from last fall, two of the research groups determined that the Hargrett Hours contains a distinctive, and apparently planned, cluster of texts on the Passion (see this and this blog post from last year), so Katie and Madison are continuing the research on these texts. Watch for regular blog posts from them on their project and its progress.
There's a lot happening in class this semester, and we hope you'll join us on our journeys into these fascinating new areas of manuscript studies at UGA.